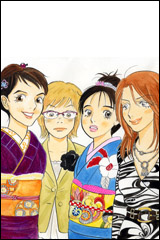 Hanawake no Yon Shimai
華和家の四姉妹
Broadcast : from 10 July, Sunday 9pm
Genre: Family Comedy
Theme Song : 「星の果て」観月ありさ
TV Station: TBS
Original Adaptation (manga): Hanawake no Yon Shimai by Saimon Fumi (柴門ふみ)
Main Cast (information from
http://wiki.d-addicts.com/Hanawake_no_Yon_Shimai
):
Mizuki Alisa as Hanawa Takemi
Kanjiya Shihori as Hanawa Sakurako
Kawashima Umika as Hanawa Ume
Kichise Michiko as Hanawa Fujiko
Miyazaki Yoshiko as Hanawa Sachiko
Endo Kenichi as Hanawa Daigo
Kawashima Ririka as Ayame
Ono Rento as Ippei
Kato Kenshiro as Kappei
Kato Shigeaki as Mashiko Shozaburo
Tanaka Tetsushi as Yamane Katsuhiko
Moriwaki Eriko as Mori Ayako
I am keeping my fingers
. After watching three episodes, without pressing the "fwd" button, I hope this piece would become my favourite this summer. I am not a fan of Mizuki Alisa but i think this is one of her best roles so far.
Storyline:
The Hanawa family has a bunch of four unmarried sisters, a philandering father and a ever-smiling, long suffering mother under one household. Ooops, I forgot. The family comes with three adorable children belonging to the second sister.
Eldest Sister is a high flier. She fills the sitting room with her trophies and she is competitive at work in a magazine firm too. Any eligible man will find her intimidating, including her boyfriend.
Second Sister is sassy, seductive, sensual and she makes all men, tall and short, fall under her feet, including her ex-husband. But she seems to be the black sheep in the family. With a string of failed marriages and three small children, she is the least exemplary to her siblings. She is my favourite character, however because she is least pretentious and she inherited her mum's cheerfulness and perceptiveness.
Third Sister is really the other extreme of Second Sister. She can't read a man's mind. She is desperate to find a marriage partner but she has neither her eldest sister's brains or her second sister's charm or fourth sister's innocence.
Fourth Sister is an apprentice sculptor at an art academy. She is attracted to a cute looking boy but freezes up on every encounter with him.
The Hanawa parents have been married for 33 years. All is well it seems and they are preparing for a trip to Paris to celebrate their wedding anniversary until...